THE WAKING WHORL AND THE DREAMING WHORL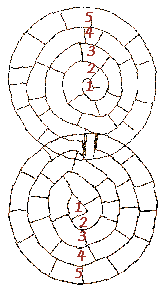 Consciousness is the greatest mystery there is, obviously, probably because consciousness and the universe are the same thing. But the other reason it remains such a mystery is because of the world of dreams. Sometimes I wonder if the relationship between the macrocosm and microcosm - the whorl above and the whorl below - is expressed as the relationship between the waking mind and the dreaming mind. Here is what I think is the relationship and what I think is happening in dreams.
When we are awake we engage upon introspection as the way of making the self responsible for what we are experiencing in the environment, as in "It's all my fault." "What is going on and can I change it?" "What if I do this, what will happen then?" "If I am kind and cheerful then everything will be better." But when we sleep we do the inverse, we engage upon projection as a way of making the environment responsible for what we are experiencing in the self.
As example, if we have muscle aches while sleeping we might explain to ourselves what is happening by dreaming we are in a doctor's office getting a massage that's causing the aching. Or, if we have a headache we might dream we are in combat somewhere and getting injured in the head. If we are restless in our sleep we might dream we are being bothered by some creature or some such explanation to ourselves of what's going on. It is impossible we can deduce something in dreams like "my legs hurt" or "my back hurts" and make a conscious statement to ourselves while dreaming as explanation of it. Dream consciousness isn't capable of that kind of critical thinking but instead forces us to think in terms of explaining to ourselves what is happening by projecting a dream environment in which we are involved in something that is causing whatever we are physically or mentally experiencing. In this way, dreams help us with our mental health.
Also, the dream events occur one after the other over a period of time like in real life, but it's an illusion. They seem linear but really they aren't; it's just that our conscious experience of them makes them seem linear. There is the famous example from Carl Jung's case of the man who had an extensive dream of being an aristocrat in the French Revolution, plotting against the rebels, getting caught, going on trial, getting sentenced to death, being taken to prison and finally being taken to the guillotine and getting his head chopped off as a way of explaining to himself why his head hurt when the picture above his bed fell and hit his head as he slept. Jung used this dream as an example of how dreams seem linear and lengthy but really aren't. Thus, our unconscious minds masterfully manipulate time as a handy tool while we dream, and our conscious minds surrender to the rules of time when awake. When we dream we transfer those rules via some mental processess into our dreaming reality. Against time we are helpless except when dreaming, when we are Masters of Time. Space also has power over us except when dreaming.
Dreams are perhaps a sudden creation in a burst of consciousness, and inside that burst are all the elements of the events, like a rain drop full of subatomic particles or pictographs inside a spiral, that we sort out with our conscious mind and make connections from one to another so that geometry is formed and the dream projection created and the events seem to occur. The application of consciousness in a sorting endeavor makes the events seem linear and helps them make sense. Is this what we are doing in life? Are we experiencing the rain drop of the "eternal now" as a linear series of events because of the application of our consciousness in a sorting endeavor to make sense of our reality?
By dreaming, we square ourselves with reality, and it's satisfying. We can control what happens, we are the masters of reality in dreams and that's important because the reality is that we were born into a pre-existent world/whorl. But at night we relax into the opposite way of experiencing it, of projecting our environment and creating our world, as a release and a creative expression, and we are refreshed for the next day of waking consciousness in a world not of our making.
It is a condition of life that we come into a pre-existent world, or maybe it only seems that way and is, in fact, the ultimate mystery of consciousness, and we bring with us into this reality the essential consciousness tool - alternate world of dreaming - a kind of shovel that can dig us out of our "stuck" condition. Dreaming helps empower us into believing we can change the world more to our liking, bring it closer to the Ideal World that we intuitively seek. Through dreams we gain inspiration, mental refreshment, and the will to bugger on in the ultimate reality of certain death.
I love this Aztec hymn from about the 5th century C.E. Though it seems amazing to have come from that period of time and those people, the Aztec and the Maya were very into the dreamtime. The Maya called the dreamtime "Otherworld," and each dream they called "Vision serpent."
We only came to sleep
we only came to dream
It is not true
no, it is not true
that we came to live in the world (whorl)
We are changed into the grass of springtime
Our hearts will grow green again
And they will open their petals
But our body is like a rose tree:
It puts forth flowers and then withers.
If this is true that we only came to sleep and dream and not to live in the world, it opens the mind to other mysterious dimensions of consciousness and it raises many questions. Where did we come from and what kind of being are we that only comes here to dream but not to live? Is living and dying here the price we pay in order to gain the experience of dreaming? Why do we need to come here to dream? Why can't we dream in our normal existence? What kind of being are we that cannot sleep and dream but nevertheless needs to? Is the entire physical world/whorl our creation just so we can come and get our dream on? And finally and ultimately, if all this is true, that we create this world just to come here to sleep and dream in it, then why do we conceal from ourselves this knowledge of who we are and what we do and where we come from?
What was already deep and mysterious just got deeper.
---
Page 1 - Antique Science of Containment | Many Hidden Patterns
Page 2 - The Tablet | Who Created It? | How to Solve It
Page 3 - Constellation Argo - The Ferry | Khufu Ship | Rope Truss
Argo Sails Backwards for 2,300 Years!
Page 4 - North Star | Enochian Language
Linear "A" for Argothic? | Egyptian Influences
Page 5 - Great Pyramid Exterior
Page 6 - Pyramid Interior | Pyramid Goddess
Archaeoastronomy Site | Vault Technology
Minoan Symbols for Star and Constellation
Page 10 - Maze Solution | Phi Spiral
Page 11 - Conclusion | Unidentified Patterns | Ships of the Sky
Page 12 - Minoan Calendars | Minoan LuniSolar Calendar
Minoan Zodiac Stellar Calendar | Minoan Sothic Calendar
Minoan 366-Day Year Calendar
Page 13 - Brilliant Lost World
Page 14 - Origins of the Phaistos Disk | How Was it Made?
Page 16 - Pictographs Numbered | Entire Inscription
Page 17 - It's Full of Stars! | Hoax Defense | Infamous Letter
Wrong Motivation | Conclusion
Page 18 - Galileo on Philosophy | The Crater of the Whorl
Remembering the Whorl | Planeism |Tree of Life
The Arktype Astrology | Waking Whorl and Dream Whorl
Page 19 - The Phaistos Disk | Hidden Patterns | Emerald Table
Astronomer-Artist | As Above, So Below | Planeism
Page 20 - Crete Invents Modern Astrology
sexagesimal System | Phi Spiral | Astronomical Ages
Birthing Stone of Zeus | Watcher Unseen
Page 21 - Phaistos Disk Color Animations
Page 22 - Phaistos Disk Maze of Daedalus
Daedalus, Cunning Artificer | Palace of Knossos
Daedalus Invents Images
Page 23 - Animated Geometry
Page 24 - Shield of Achilles
Page 25 - Great Pyramid on the Phaistos Disk
Page 26 - Constellation Argo Sail Backwards for 2,300 Years
Page 27 - North Star, Sirius, the Planets and Stars
Page 28 - 3,600 Year-Old Animation
Page 29 - Phaistos Disk Clay Pictographs
Page 30 - Emerald Table of Hermes Trismegistus
Copyright Notice - Disk of the World - Text and images copyrighted March 21, 1993-2023, Claire Grace Watson, B.A., M.S.T., U.S. Copyright and under the Digital Millennium Copyright Act of 1998, All rights reserved.