As you can see, the Minoans drew the constellation sailing bow-forward, not stern-forward, which makes plenty of sense for two reasons: (1) because it is sailing in the direction the stars are (appear to be) moving and (2) because ships don't sail backwards.
---
DODONA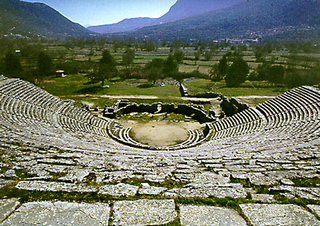 The Argos of mythology was built at Dodona, where an ancient sanctuary of Zeus was located. A stadium was built there in the 3rd century B.C., open like a sunflower to hold 18,000 people. (far left and "flower" from disk) Dodona also had several temples, a theater, a stadium, and an acropolis, including a Temple of Heracles. Was Dodona the site of the first Olympic Games?


Dodona was the oldest oracle, sacred to Zeus and Dione. An old oak tree there became an oracle when a black dove, from Egyptian Thebes, settled on it. Priestesses interpreted the rustling of the tree's leaves, the cooing of doves, and the clanging of brass vessels that were hung from the tree's branches. At Dodona, they spoke in images - symbols - not words. Does the Phaistos Disk preserve part of their symbol language?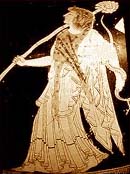 Also in Dodona were the Oreiades, (right) divine children of the Dactyloi and cousins of the dancing Curetes. They were nymphs of the mountain oaks (1) and pines. They were usually portrayed with serpents (2), and they carried thyrsoi, pine-cone tipped staves or poles. (3) Thyrsoi were symbolic wands, generally cane-like or knotted like a bamboo, and sometimes wreathed with ivy or vine leaves, with a pine-cone at the top. (Plutarch)





The Argos (1) was made of sacred oak (2) from the oracle at Dodona. The Argonauts were sailing the Aegean Sea (3) searching for the golden fleece (4) belonging to the ram (5) that had been sacrificed to Zeus.



Herakles and his brothers, the five original Curetes, are said to have built the alter of Olympic Zeus (1) and to have begun the Olympic games with a foot race, (2) which Herakles won. He received as his prize a branch of the wild olive. (3)
---
Page 1 - Antique Science of Containment | Many Hidden Patterns
Page 2 - The Tablet | Who Created It? | How to Solve It
Page 3 - Constellation Argo - The Ferry | Khufu Ship | Rope Truss
Argo Sails Backwards for 2,300 Years!
Page 4 - North Star | Enochian Language
Linear "A" for Argothic? | Egyptian Influences
Page 5 - Great Pyramid Exterior
Page 6 - Pyramid Interior | Pyramid Goddess
Archaeoastronomy Site | Vault Technology
Minoan Symbols for Star and Constellation
Page 10 - Maze Solution | Phi Spiral
Page 11 - Conclusion | Unidentified Patterns | Ships of the Sky
Page 12 - Minoan Calendars | Minoan LuniSolar Calendar
Minoan Zodiac Stellar Calendar | Minoan Sothic Calendar
Minoan 366-Day Year Calendar
Page 13 - Brilliant Lost World
Page 14 - Origins of the Phaistos Disk | How Was it Made?
Page 16 - Pictographs Numbered | Entire Inscription
Page 17 - It's Full of Stars! | Hoax Defense | Infamous Letter
Wrong Motivation | Conclusion
Page 18 - Galileo on Philosophy | The Crater of the Whorl
Remembering the Whorl | Planeism |Tree of Life
The Arktype Astrology | Waking Whorl and Dream Whorl
Page 19 - The Phaistos Disk | Hidden Patterns | Emerald Table
Astronomer-Artist | As Above, So Below | Planeism
Page 20 - Crete Invents Modern Astrology
sexagesimal System | Phi Spiral | Astronomical Ages
Birthing Stone of Zeus | Watcher Unseen
Page 21 - Phaistos Disk Color Animations
Page 22 - Phaistos Disk Maze of Daedalus
Daedalus, Cunning Artificer | Palace of Knossos
Daedalus Invents Images
Page 23 - Animated Geometry
Page 24 - Shield of Achilles
Page 25 - Great Pyramid on the Phaistos Disk
Page 26 - Constellation Argo Sail Backwards for 2,300 Years
Page 27 - North Star, Sirius, the Planets and Stars
Page 28 - 3,600 Year-Old Animation
Page 29 - Phaistos Disk Clay Pictographs
Page 30 - Emerald Table of Hermes Trismegistus
---
Copyright Notice - Disk of the World - Text and images copyrighted March 21, 1993-2023, Claire Grace Watson, B.A., M.S.T., U.S. Copyright and under the Digital Millennium Copyright Act of 1998, All rights reserved.