"Carpenter's squares (geometry) built this."

Not aliens :) I wondered what other pictographs might be concealed on the disk, so I made exact tracings of the both sides of the disk to see the effect of the spiral behind the other hidden images. No one had ever done this before. They might have gone to the trouble if they had known Houghton-Mifflin publishing company would pay them $800 to put one of the tracings on the cover of one of their college English composition textbooks entitled Making Sense. (left)
---
TWO PYRAMIDS?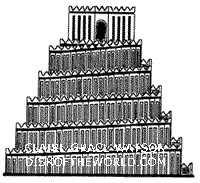 This odd pictograph appears twice on the disk and I wondered if it might have something to do with the Great Pyramid. I had read somewhere, in one of those many books, that In ancient Mesopotamia the top of the ziggurats were marked with a pictograph identical to the letter E. It meant "house of the god." A place was created there for the god on earth, who was thought to descend to take up residence in the house prepared for it.
Could there be a connection between the ziggurats and the pyramid? Could it be the pyramid was also prepared as the "house of the god?" Do two such pictographs indicate two pyramids on the Phaistos Disk? I began to "dig" for the second pyramid on the disk, but because it was an interior view I had a wrong idea of how it would look, so I didn't excavate it for many years.
My quest for lost knowledge and a desire to solve this mystery set me on a course to find the other pyramid and any other concealed pictographs. I didn't know it would take twenty years, so that's sixty bridge nationals I missed. Oh well, I wouldn't have gone to most of them, anyway.
I found most of the patterns within a few months, but it was always the thrill of finding something new, the "ah ha!" moments, and the research that I loved so much, the learning about that period of time and that little island civilization. I just fell in love with it and merged with it, became immersed in their world and their art. I went back in time to that place. I went via my research and also my dreams. The place exists in my mind and I feel I am a part of it. Working on the disk and learning about it, discovering its secrets, makes me truly happy.
Claire's own site, Disk of the World, is a beauty and a wonder. (Arsen Darney, Ghulf Genes)
---
Page 1 - Ancient Puzzle Solved | Brilliant Ancient World
Page 2 - Interview with Jonas | Valuable Background in Bridge
Common Approach | Can You Read the Phaistos Disk?
Self-Hypnosis
Part 3 - Dream Perspective | Great Pyramid, Exterior
Two Pyramids?
Part 4 - Great Pyramid, Interior & Subterranean Chamber
Phaistos Disk Maze of Daedalus
Part 5 - Great Star in the Sky
Part 6 - Constellation Argo
Page 7 - Pre-Euclidean Geometry | Minoan Fashion
Page 8 - Solve the Maze | Minoan Pottery
Page 9 - Minoan Calendars | Minoan Lunisolar Calendar
Zodiac Stellar Calendar | Minoan Sothic Calendar
Minoan 366-Day Year | How Was the Phaistos Disk Made?
Page 10 - Phaistos Disk Pictographs
Page 11 - Fishing Lessons | Big Game Hunter
First Woman Airline Pilot | The Stearman | The AT-6
Page 12 - Brilliant Musician | Debutant Career | English Teacher
Booted Out of School | Hostess Career
Page 13 - Crash Landing | Marauder Pilot | Bridge Boyfriend
Dedicated to Billy | Money Bridge Pro
Archaeoastronomer Career
---
---
Copyright Notice - Disk of the World - Text and images copyrighted March 21, 1993-2023, Claire Grace Watson, B.A., M.S.T., U.S. Copyright and under the Digital Millennium Copyright Act of 1998, All rights reserved.