Personal Website of Claire Grace Watson, B.A., M.S.T., Shield Guide

---
---
Page 1 - Ancient Puzzle Solved | Brilliant Ancient World
Page 2 - Interview with Jonas | Valuable Background in Bridge
Common Approach | Can You Read the Phaistos Disk?
Self-Hypnosis
Part 3 - Dream Perspective | Great Pyramid, Exterior
Two Pyramids?
Part 4 - Great Pyramid, Interior & Subterranean Chamber
Phaistos Disk Maze of Daedalus
Part 5 - Great Star in the Sky
Part 6 - Constellation Argo
Page 7 - Pre-Euclidean Geometry | Minoan Fashion
Page 8 - Solve the Maze | Minoan Pottery
Page 9 - Minoan Calendars | Minoan Lunisolar Calendar
Zodiac Stellar Calendar | Minoan Sothic Calendar
Minoan 366-Day Year | How Was the Phaistos Disk Made?
Page 10 - Phaistos Disk Pictographs
Page 11 - Fishing Lessons | Big Game Hunter
First Woman Airline Pilot | The Stearman | The AT-6
Page 12 - Brilliant Musician | Debutant Career | English Teacher
Booted Out of School | Hostess Career
Page 13 - Crash Landing | Marauder Pilot | Bridge Boyfriend
Dedicated to Billy | Money Bridge Pro
Archaeoastronomer Career
---
DISK OF THE WORLD
A Spiritual Revelation about the Enlightenment and its Social Oppression

This is a Shield Guide portal. We are a vast organization of beings from all parts of the universe and an interdimensional organization of life systems that represent a winged body of planetary systems. We assist in developing light-network domains and appear when requested to shield and guide civilizations on ascension paths. We form portals bridging this evolutionary domain to others in the universe on similar ascension paths.
Copyright Notice - Disk of the World - Text and images copyrighted March 21, 1993-2017, Claire Grace Watson, B.A., M.S.T., U.S. Copyright and under the Digital Millennium Copyright Act of 1998, All rights reserved. No part of this web page may be reproduced or transmitted in any form or by any means without written permission from the author, except for the inclusion of brief quotations in a review.
PHAISTOS DISK MAZE PUZZLE SOLUTION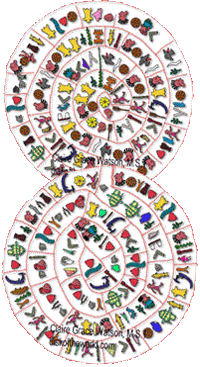 My tracing of the Phaistos Disk, colorized
---
---
---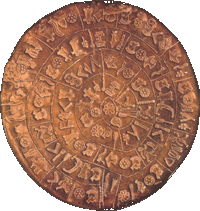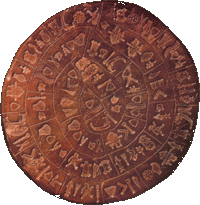 of the Phaistos Disk
with pictographs color coded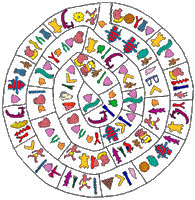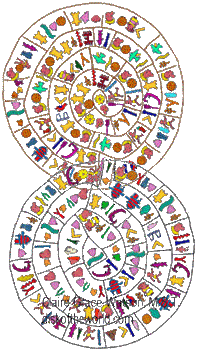 My exact tracing
of the Phaistos Disk, pictographs removed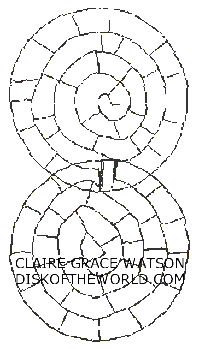 My exact tracing
of the Phaistos Disk with pictographs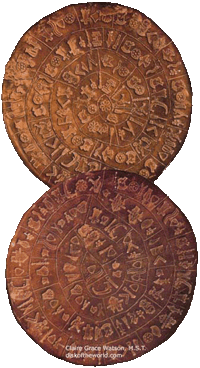 The artist(s) of the disk puzzle populated the spirals with pictographs as place holders for the hidden large pictographs (patterns), revealed when the matching pictographs are connected with lines, as in connecting points with lines in geometry and stars with lines in astronomy to produce constellations.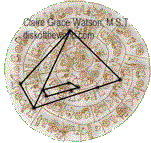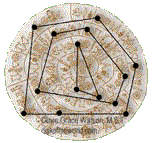 PHAISTOS DISK SOLUTION BY CLAIRE GRACE WATSON, B.A., M.S.T.
---
FANTASY INTERVIEW WITH SIR ARTHUR EVANS
---
Kindly donate to this website and receive your choice of a gift
---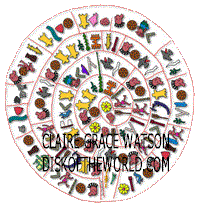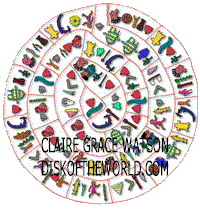 Vertex-Vortex in the Pyramid. Vortex is also vertex, meaning "to turn or rotate." Vertex is the point in the sky directly overhead. The Pythagoreans, who got their science from Egypt, via Crete it seems, understood the vertex to mean the point opposite to and farthest from the base of a triangle, pyramid, or any figure having a base. Geometry involved, pre-eminently, the triangle and its uses in describing the properties of a circle and the geometry of the sphere for use in astronomy.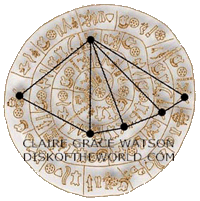 Phaistos Disk color inverted. Perhaps the pyramid was identified by them as a constellation.




Phaistos Disk carpenter's square pictograph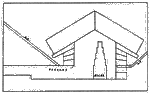 Queen's Chamber, Great Pyramid, Vault technology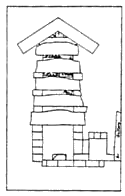 King's Chamber, Great Pyramid, Vault technology